Student of the Year
29 April 2009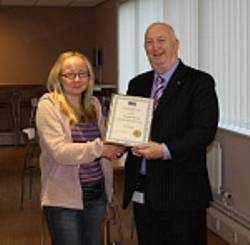 In May 2007 Annmarie Barcroft began her ITIL training, with SYSOP, by taking her Foundation Course. This was swiftly followed by the training for the Manager's Certificate sitting the exam on St Georges Day (April 23rd 2008). Annmarie slayed her dragon by gaining a double distinction.
SYSOP Managing Director, Stuart Sawle, presented the certificate and a boxed set of crystal flutes to Annmarie congratulating her and saying that he had researched past past marks and that, whilst distinctions were not particularly rare, double distinctions showed exceptional talent and that Anne-Marie's marks represented an all time high.
Annmarie said she'd really enjoyed her training and asked for special thanks to be passed on to Warren, Janet & John - her tutors in her study to date. She said she was just a bit worried now that she had set herself a performance challenge in respect of the v2-v3 Manager's Bridge exam she intened to sit later in the week.