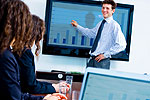 Lifecycle or Capabllity - which is best for you?

There are two routes to achieving the coveted ITIL "Expert" diploma.
The Lifecycle courses are intended for candidates with considerable management experience in a service management environment. The courses are intense and will draw upon real-life experience within the classroom. Some of the exam questions assume experience that is not taught on the course.
The Capability courses explore topics at a more detailed "practitioner" level. They are ideal for candidates with more limited experience - for example those just moving into a new service management role who wish to gain new knowledge for their new job.
More information: ITIL Courses
Industry studies show that the UK's top 200 listed companies waste more than £61m in electricity a year by not maximising the energy efficiency of their desktop computers.
The IT industry now accounts for more carbon emissions than the airline industry - our appetite for energy seems almost insatiable. The ISEB Foundation Course in Green IT is a significant first step.
More information: Sustainable IT & IT Governance
Using practical exercises instead of the ubiquitous PowerPoint presentation, Sysop students will work through a series of facilitated and very logical case-studies which will enable them to understand PRINCE2® in a much more effective and practical way.
More information: Business Change & PRINCE2
Here is a selection of late availability courses on special offer.
Can't see the date you want? Full schedule available here
More information: SPECIAL OFFERS
Make substantial savings on your training courses. Sysop training vouchers enable you to buy tomorrow's courses at today's discounted prices.
More Choice – You are not limited to one course or course category..
Extended duration – 2 years minimum.
Reduced administration – You pay one single invoice for the vouchers and we do the rest.
Flexibility – You spend as much or as little on training vouchers as you like as well as being able to use them on any type of training.
Excellent discounts – Giving you opportunity to maximise your training spend through excellent discounts.
Safety – Safeguard against budget cuts.
Financially secure – Sysop has been trading for over 25 years with a n excellent credit rating so you can be assured your money is safe.
Exams included - the cost of your training voucher includes the cost of any examinations when you redeem you voucher against an exam-based course.
More information: Training Vouchers