Description
The ITIL Expert Capability Bundle provides all the Capability courses and the over-arching module Managing Across the Lifecycle to enable an individual to achieve the ITIL Expert qualification upon successful navigation of the associated examinations.
The Capability modules are designed to reflect how ITIL service management is implemented in practice by grouping the topics into logical functional areas: Planning, Protecting & Optimisation; Service Offerings & Agreements; Release, Control and Validation; and Operational Support and Analysis. The Capability courses explore topics at a more detailed "practitioner" level. They are ideal for candidates with more limited experience - for example those just moving into a new service management role who wish to gain new knowledge for their new job.
The following diagram outlines where the Capability courses fit in relation to the ITIL Qualification Scheme: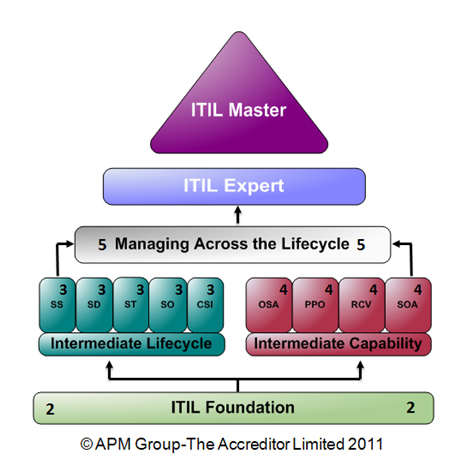 Each Capability Module contributes 4 credits towards ITIL Expert qualification (All 4 Capability courses equates to 16 credits). Alongside the credits gained for the ITIL Foundation certificate (2) this will provide sufficient credits in total (18) to qualify an individual for the final Managing Across the Lifecycle course.
It is possible to mix and match Capability and Lifecycle courses to suit in pursuit of the ITIL Expert qualification. Details of the Lifecycle courses are available on the next tab.