Description
The ITIL Expert Lifecycle Bundle provides all the Lifecycle courses and the over-arching module Managing Across the Lifecycle to enable an individual to achieve the ITIL Expert qualification upon successful navigation of the associated examinations.
The Lifecycle group of examinations mirror the official ITIL books: Service Strategy; Service Design; Service Transition; Service Operations and Continual Service Improvement. The Lifecycle courses are intended for candidates with considerable management experience in a service management environment. The courses are intense and will draw upon real-life experience within the classroom.
The following diagram outlines where the Lifecycle courses fit in relation to the ITIL Qualification Scheme: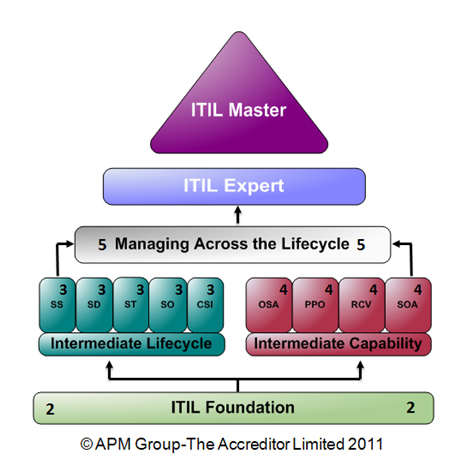 Each Lifecyle Module contributes 3 credits towards ITIL Expert qualification (All 5 Lifecycle courses equates to 15 credits). Alongside the credits gained for the ITIL Foundation certificate (2) this will provide sufficient credits in total (17) to qualify an individual for the final Managing Across the Lifecycle course.
It is possible to mix and match Lifecycle and Capability courses to suit in pursuit of the ITIL Expert qualification. Details of the Capability courses are available on the next tab.