Awards for the Sysop Team
11 November 2011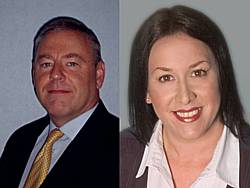 Andy Wright was a finalist in the itSMF "IT Trainer of the Year" category at the itSMF Awards Dinner at the November conference in Hammersmith.
Michelle made it, first of all, to the final ten in the "IT Support Professional of the Year" at the BCS IT Indistry Awards presentation in the Battersea Events Arena later the same week. On the night, to everyone's delight, Michelle's achievements were recognised with the award of a Medal in this highly competitive category.
Over 200 entrants were evaluated by the judges many of whom attended a gruelling interview at the Madjeski Stadium. Michelle was on a Sysop assignment in the USA on that particular day and was "put through her paces" by telephone interview.
Congratulations to both Andy and Michelle - who selflessly demonstrate the Sysop quality ethic in all that they do.